Ordering the food shopping
Once the store has your order it must be picked. Many supermarkets can do this in their largest stores, like Ocado, they can purpose-build regional semi-automated warehouses that don't have customers; or they can use a mixture of both. Even picking in store is controlled by a computer. Not all supermarkets will have the same process, but this is a general idea of what happens.
Customer orders are divided up into departments like chilled, frozen, household, and produce. The picker's trolley is specially designed with four sections, enabling four customers' orders to be picked simultaneously while the picker is guided through their departments. Every product in every store is already 'mapped' as being located on a particular shelf. In the picture the left-hand shelf edge label identifies aisle 7; Right hand side; 12th module; shelf F (6th shelf high).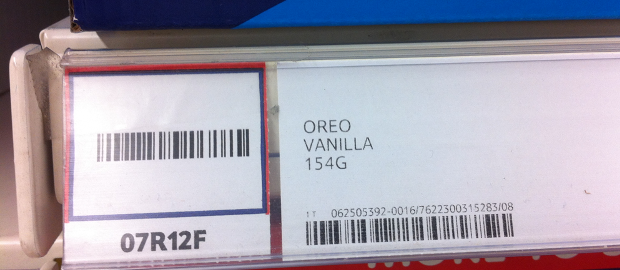 The picker has a hand scanner and a display which tells them where to find the first product on the order. The picker checks how many are wanted, and then scans each pack as it's picked. They are also told which order each item is for – at this stage it will be identified by a coloured symbol, e.g. red square, green triangle, rather than a person, and these refer to the matching sections in the picking trolley. With a popular product like bananas the picker may have to pick for all four customer orders before moving on, which is efficient. The process repeats until all four orders have been picked – and then the orders are stored at the right temperatures before loading onto the delivery vans.
As you would expect with computer systems, the picker is expected to accomplish their pick in a time that reflects their route and volume, and they can see their progress as they go, so this may explain why sometimes you may receive something with less life than you'd choose yourself – because they don't have time to check.
The delivery is also managed by a computer system which has travel times between each delivery address and puts customer deliveries together by time slot and area in the most efficient way possible.
Tim White