When Hollywood came to Braughing
John had been contacted by Lady Sieff (of Marks & Spencer fame) asking if he could meet her friends, Anne and Kirk Douglas, as they were interested in buying a sculpture. An earlier attempt to meet the famous pair had gone horribly wrong as John was hit by a skidding lorry as he left the village to see them in London. It could have killed him. Luckily he got away with a broken thumb, but the car was a write-off.
John was convinced he had lost the sale but the meeting was rearranged, and this time John made it in one piece to the Berkeley Hotel. At that meeting it was agreed that the Douglases would come to Braughing to see the sculptures in situ.
And so it happened that, unbeknown to the villagers, the great film legend visited us at the Old Forge in Braughing. I was so star-struck without wanting to appear so, that I cannot remember much about the visit other than taking the photo, which appeared recently in the Bishop's Stortford Independent reporting Kirk Douglas's death at the age of 103.
During their visit, Anne and Kirk had a good look around the studio and garden and found two bronzes which they wanted to be shipped to California.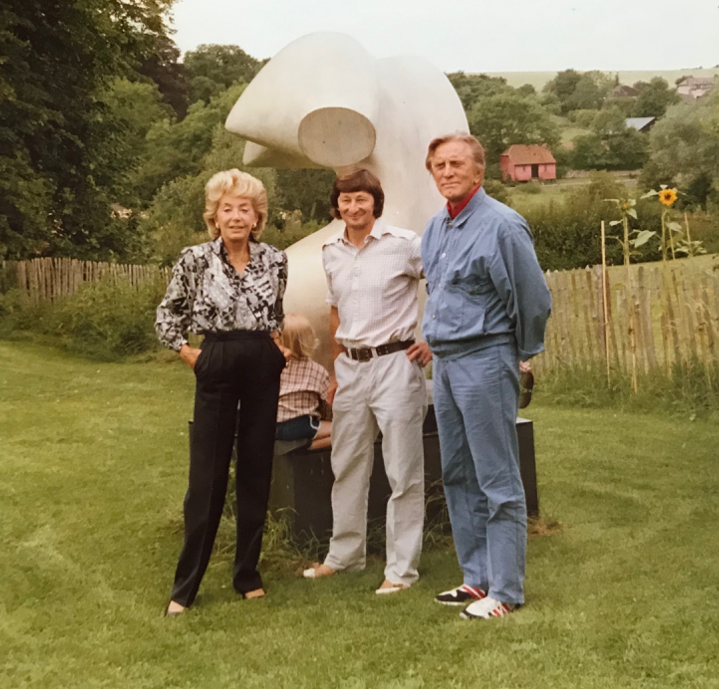 Some ten years later, after Kirk Douglas had had a stroke, we visited their home in Beverly Hills. We talked about art, about his son Michael's new Welsh girlfriend, about their plans of giving up the house in Palm Springs and buying one in Santa Barbara instead. It was in Palm Springs where one of John's sculptures was situated.
If I had known then what I know now I could have told Kirk Douglas that we had something in common. In 1974, I had received a Fulbright scholarship to take up an assistant teaching post at St Lawrence University in Canton, New York, which was Kirk's very own alma mater.
At that time the University did not make much of its connection with Kirk Douglas as a Laurentian. It was only years later that he tied a closer knot by introducing a million-dollar scholarship for underprivileged students. And a few years before his death a new residence hall was named after him. I am still in touch with one of my students, who has left the cold state of New York and settled in balmy Florida.
They were memorable moments, which will always stay with me.
Lotte Farnham