The Longman Window St Mary's church Braughing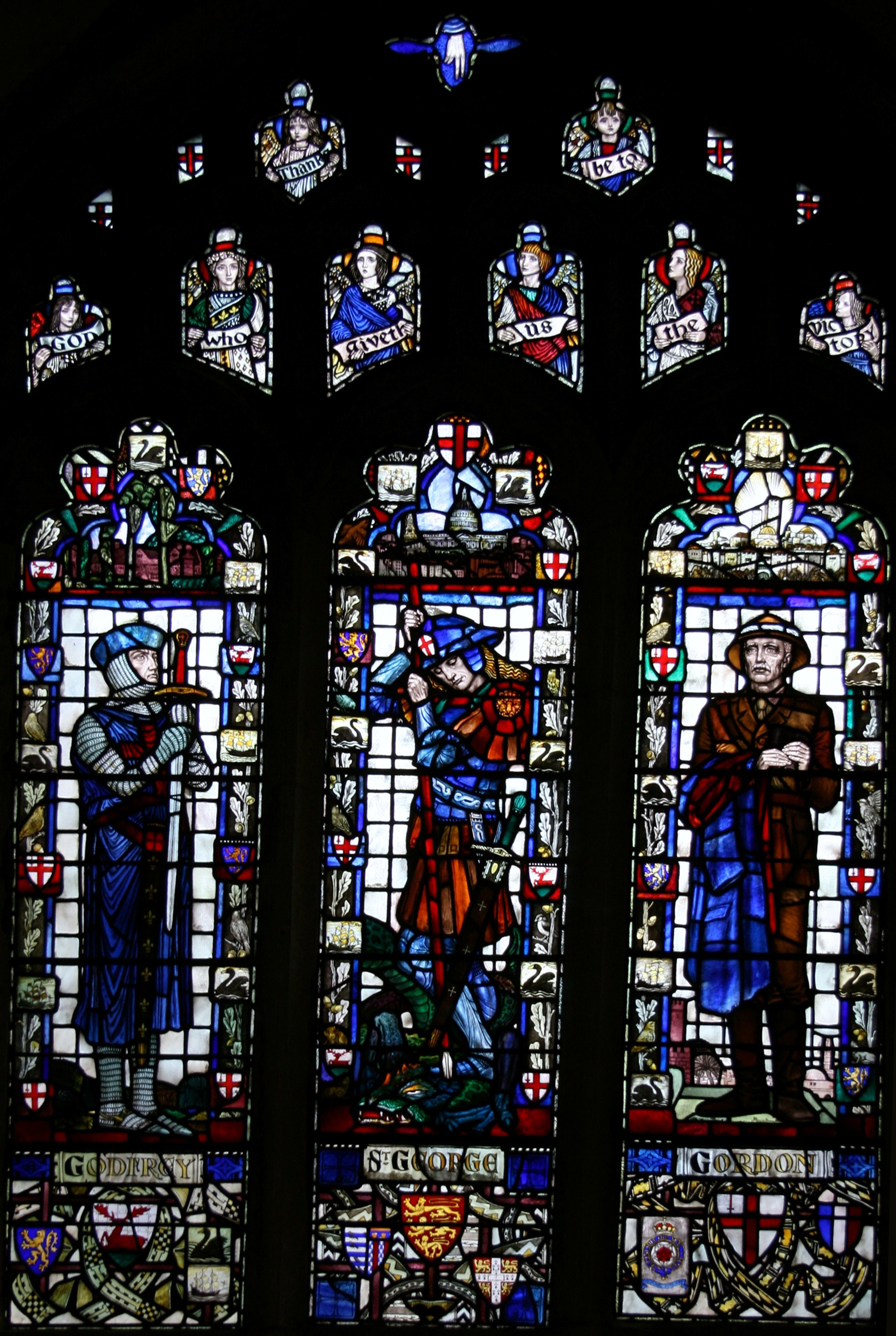 At the east end of the south aisle of the 15th century nave of St Mary's church, Braughing is a beautiful stained glass window in memory of Frederick Longman. Erected in 1920 it contains images of three gallant soldiers from various stages in history:
Godfrey de Bouillon, a medieval knight and crusader and brother of Eustace Count of Boulogne who held land in Braughing. Godfrey joined the first crusade in 1096 and became Ruler of Jerusalem until his unexpected death in 1100.
St George, who served as an officer in the Roman army, protested against the torture of Christians and was executed in 303 AD for his beliefs.
Charles Gordon, born in 1833 in London and commissioned in 1852 as a second lieutenant in the Royal Engineers and promoted to lieutenant in 1854. He saw action in the Crimean War, in China and in Africa. He was promoted to the rank of Major General in 1882 and was murdered during a revolt in Khartoum, Sudan, in 1885.
The window also contains images of Upp Hall mansion, Harrow School and Pembroke College, Cambridge; the black swan contained within the logo of the family business, Longman Publishers, as well as images of small animals, loved so much by Freddy as a child.
This beautifully designed stained glass window was presented to St. Mary's church by Mr & Mrs Charles James Longman, of Upp Hall, in memory of their second son, Frederick Longman, who served as a Lieutenant with 4th Battalion of the Royal Fusiliers and was killed at Herlies in Northern France on 18 October 1914. He was the first Braughing soldier to be killed in the war.
On Sunday 29 August 1920, a special service was held in the church, led by Rev Baker who dedicated the window saying: "In the faith of Jesus Christ we dedicate this window to the glory of God and in memory of his servant Frederick Longman, in the name of the Father and of the Son, and of the Holy Ghost. Amen."
After the concluding prayers and the blessing, the final hymn 'Through the night of doubt and sorrow', was sung. Miss Cannon, the organist, played Mendelssohn's 'O rest in the Lord' as the congregation left the church.